Share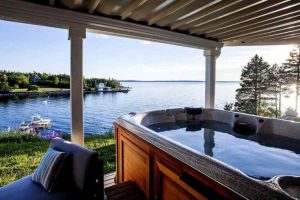 The days are getting longer and lighter, and many of us are already looking forward to summer. Well, what better way to greet the summer than to install a hot tub in your garden? Hot tubs provide a relaxing way to recover from the stresses of day-to-day life – and no doubt we've all had enough stressful days over the last year to last a lifetime!
If you're searching for high-quality hot tubs South Wales, Topstak offers a huge range of Arctic Spa and wood-fired tubs that are sure to spruce up your garden, allowing you to enjoy those long, balmy summer days and nights. Even if the British weather turns sour (which, let's face it, is likely), there's something special about sitting in a hot tub in the rain.
You can check out Topstak's range of hot tubs on their website or get in touch with the team today to find out more.
Relax and unwind this summer
It's looking like things may look a little more normal this summer, with COVID-19 restrictions slowly being lifted in the UK. However, many of us Brits are understandably still opting to play it safe this summer and have 'staycations' rather than travelling abroad. Investing in a hot tub can help transport you elsewhere without you even having to leave your garden – plus you can hopefully take a dip with loved ones in the sun when restrictions are lifted. In addition to this, bathing in a hot tub can have many health benefits, including:
Increased relaxation

Relaxing in warm water can help soothe tired muscles

Relief from stress and anxiety

Hot tubs can help lower your blood pressure and reduce stress and anxiety

Improved sleep

Use of hot tubs has been linked to improved sleep quality, leaving you feeling more refreshed and rejuvenated when you wake up

Pain relief

Hot water jets can help alleviate pain by massaging knots and getting rid of any tension
A range of options to suit you
Topstak offer a wide variety of hot tubs to suit every need, plus plenty of spare parts, filters and accessories to help you enjoy your hot tub experience. Their wood-fired eco tubs offer a rustic yet luxurious way to relax after a long day, allowing you to unwind in the warm water while listening to the comforting crackle of the fire while woodsmoke wafts faintly on the breeze.
If you have a more contemporary garden style, Topstak's Arctic Spa tubs or their Novitek tubs will be perfect for you. These both come in a range of sizes, with the largest comfortably holding up to 9 people – perfect for entertaining. What's more, these hot tubs are technologically advanced and designed for use in cold climates, so they are more durable, low maintenance and energy efficient than many other brands of hot tub. If you need an even roomier tub, Topstak also stocks Arctic Swim Spas that hold up to 14 people and even have enough space for swimming.
To find your perfect hot tub in time for summer, get in touch with the Topstak team today!
More information
If you're looking for hot tubs Cardiff, you can't go wrong with Topstak. Based in South Wales, Topstak is a leading supplier of quality hot tubs, chimneys, stoves, kitchens and handcrafted furniture. To view their entire product catalogue, head over to their website at https://www.topstak.co.uk/.
Source: https://thenewsfront.com/get-your-garden-ready-for-summer-by-investing-in-a-high-quality-hot-tub-from-topstak/
Here at Topstak you will find an unrivalled range of stoves, kitchens, hot tubs and handcrafted furniture. As an independently owned company, our reputation is everything to us. That's why we promise you incomparable service, choice, quality and advice.
Unit 42 Vale Business Park
Llandow
Cowbridge CF71 7PF
United Kingdom
01446 771567