Share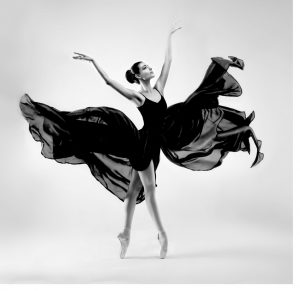 BOSTON, May 20, 2020 /PRNewswire/ — The team at Saw.com, a leading domain name broker of ultra-premium domain names, announced that it had been engaged to sell the extremely valuable online property. Highly marketable and easy to remember, ballet.com provides an unprecedented branding and investment opportunity to help capitalize on the growth of the in this multi-billion-dollar sector of the arts, and the ballet dance-inspired fitness industry. The ballet community has been dramatically impacted by the COVID-19 Pandemic. To help her fellow dancers, this past week, Misty Copeland, Principal Dancer with The American Ballet Theatre and former colleague Joseph Phillips launched an initiative called Swans for Relief.
This well-choreographed endeavor for which they teamed up with 31 ballet dancers worldwide to join Copeland for online video performance. She goes on to say in an interview with The Associated Press via a Zoom call, "We've needed this reset, to kind of step back and reassess how we do things, especially for an art form that doesn't rely on media as much. "It's about time that we learn how to exist in this virtual world for the ballet community. So I do think there are some positives in there and maybe just figuring out new ways of bringing theater to people so that it reaches more people."
The art and discipline of Ballet have inspired fitness professionals to offer ballet barre classes that have soared in popularity. Last year, Time Magazine labeled them a "phenomenon" among fitness routines, with well over 1,000 studios in the United States alone. The latest industry study revealed that Americans spend $4 Billion a year on classes and products, including equipment, apparel, and media. This figure represents an increase of 4.9% compared to the previous study. Everyday fitness experts and enthusiasts are flocking to the high-energy Ballet inspired classes that challenge the entire body with ballet-based fitness options, whether in the studio or digitally streamed at home.
Buying the domain, ballet.com offers the opportunity to dominate this industry. "To say the ballet trend has heated up in the last 10 years is an understatement. Ballet barre has morphed from a class for nimble dancer-types to become the workout of choice for fitness fiends everywhere—and studios are springing up in droves across the U.S. (and internationally)" according to a recent industry article published by, The Greatist.com.
"Ballet is a word that is universally understood, making ballet.com one of the world's most brandable and valuable domain names that are for sale," noted Amanda Waltz, Co-Founder at Saw.com. "Buying the domain, ballet.com provides an opportunity to control a central online gateway to the world of Ballet and all it embodies. It's very rare when a domain name of this caliber, offering such a significant opportunity, is able to be purchased. The Saw.com team is honored to have the opportunity to sell the domain, ballet.com."
For additional information or offer guidelines on ballet.com, please contact Amanda Waltz directly at +1 781 281-9475 or [email protected]. Saw.com works with businesses in the overall planning and execution of their domain and related digital assets strategy. Saw.com offers resources with the knowledge and understanding necessary to provide strategic guidance to companies of all sizes. Services range from consultancy, domain acquisition, and sales. Domain strategy can be complex and confusing. We partner with you and your team to provide our years of experience to help maximize your company's success.
Source: https://thenewsfront.com/for-the-first-time-ever-ballet-com-is-for-sale/
Saw.com is founded by Jeffrey M. Gabriel and Amanda Waltz. We've seen what a powerful, positive domain can do for a company, and it's exactly what drives us. We founded Saw.com so that we can help you with our expertise…
37 South Street
Northborough
MA 01532
United States