Breathe New Life into Your Space this Spring with Fritz Fryer's Beautiful Bespoke Lighting
prime5erve
Share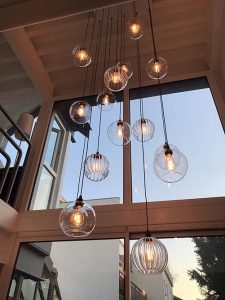 Spring is the perfect time to breathe new life into your home or business, as you're likely to have fresh ideas and renewed inspiration as the days start to grow longer and lighter again. Fritz Fryer offers a comprehensive range of bespoke lights where each element of the design is carefully crafted with you and your unique needs in mind.
Flaunt your individuality
Custom lights are brilliant because they can inject some style and a sense of individuality into a variety of different indoor spaces, such as cafes, bookshops, restaurants, hotels, offices and residential properties. Because bespoke lights are based on the unique specifications of each customer, they can vary greatly in their design, materials and style. Depending on your personal taste, Fritz Fryer can help you create bespoke lights that are highly unusual and quirky, or simply add a fun twist on a classic lighting design.
By working closely with the Fritz Fryer team, you will completely transform your space, creating a fresh atmosphere for you and your loved ones or customers to enjoy. Bespoke lighting is an investment that allows you to express your personality and individual style – plus you can be sure that you won't see the same design anywhere else.
Fritz Fryer welcomes any and all bespoke lighting design requests, no matter how bizarre they may be. You can choose to create your light with a range of unusual materials for that extra impact; indeed, in the past the Fritz Fryer team has worked on a variety of truly unique designs made from bike parts, driftwood, car parts and even an old wok and spoons. Take a look at their website to find inspiration from previous quirky lighting designs and free your imagination!
The Fritz Fryer magic
When you work with Fritz Fryer, you'll experience a seamless process where you are in control and have clear communication at every stage. During the design process, you will work closely with a specialist designer to make your perfect bespoke light a reality, discussing your ideas and any hobbies or design inspirations that are relevant to the project. Your dedicated designer will then evolve and build on your ideas to create a light that's everything you imagined.
During the design stage, it does help if you show the designer some images of the space in question so they can visualise how the lighting will look in situ, but it's not always necessary. If you're struggling to picture your finished bespoke light, you can ask the Fritz Fryer team to show you a 3D model that provides a great representation of how your design will look in the end.
After the design stage, you can sit back and relax while the team gets to work on the creation process. You can rest assured that your lighting is in good hands, with each element being carefully crafted by skilled experts in their fields. You will be kept up to date at every stage of the process, and before you know it your dream lighting will take pride of place at your home or business.
More information
Fritz Fryer are specialists offering an impressive array of bespoke lighting solutions for commercial and residential properties. You can browse their product range and find inspiration by visiting their website at https://www.fritzfryer.co.uk/. If you are interested in talking to their team to discuss your lighting ideas or discover how they can help you, you can contact them on 01989 567416.
Source: https://thenewsfront.com/breathe-new-life-into-your-space-this-spring-with-fritz-fryers-beautiful-bespoke-lighting/
Fritz Fryer Lighting are a close knit team of lighting specialists and designers based in Ross on Wye, Herefordshire. Find out here what makes us tick.
23 Station Street
Ross-on-Wye
Herefordshire HR9 7AG
United Kingdom
01989 567416