TutorCruncher Begins Work With The Tutors' Association To Raise Awareness Of Complying With The New Legislative Changes
prime5erve
Share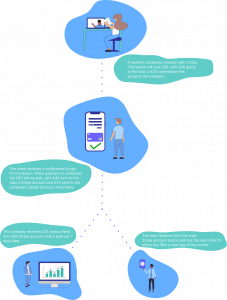 London, United Kingdom – TutorCruncher is an administrative platform built by a team of industry experts that helps small to large tutoring companies manage, grow, and streamline their businesses by offering them the most sophisticated system on the market.
The company has now begun work with the Tutors' Association to raise awareness of complying with the new 2020 High Court ruling EWHC 2461 legislative changes, as well as adding a new split payments feature to its platform to show tutoring companies a simple way to comply with the new law.
TutorCruncher states, "the recent Split Payments Feature that we have introduced in our platform complies with the above ruling by removing the necessity for the tutoring agency to ever handle money. Compensation is split between tutors and the agency at the moment of payment; all need for control of funds is removed."
Compliance and The Tutors' Association Membership
The Tutors' Association is a professional membership organisation for tutoring and the wider supplementary education sector in the UK.
Being a member of the Tutors' Association means you are committed to the profession and to upholding the highest standards of safeguarding, professional practice, and ethical behaviour.
A spokesperson for the organisation has said about the legislative changes, "we understand that the changes necessary to achieve compliance are likely to be expensive and time-consuming for many tuition companies. There is a deep concern that some tutoring companies outside of TTA (The Tutoring Association) will ignore the rules. These requirements will be enforced by the EAS (Education Achievement Service), who will take action on any valid complaint made but will resume proactive compliance checks from the 1st of January, 2023. It is the position of the TTA that the industry needs to be compliant, and compliance will be a condition of continued TTA membership. We need to protect the industry as a whole, especially those TTA members who have taken the painful steps towards compliance. "
One Platform To Manage And Grow Your Tutoring Business
TutorCruncher's management platform is off-the-shelf ready to meet the needs of a tutoring company with the feel of a system that has been designed to meet your specific requirements.
The company's tutor software has been designed to cater for every type of tutoring business, from small teams to market leaders, and helps them save time by automating the typically cumbersome administrative processes to instead concentrate on growing their business.
Some of TutorCruncher's platform features include:
Get Paid On Time – Secure payment from your clients quickly via card and debit card, as well as saving payment details to clients' accounts for automatic payment of invoices.
Increase Your Profit – Get more clients coming through your website with TutorCruncher's simple and professional plugins that allow you to make more sales by using the customised client pipeline to convert leads and close deals.
Spend Less Time Scheduling – Let tutors apply to new teaching opportunities based on their skills, along with the ability to share lesson feedback easily with the client after every lesson.
Engage Your Tutors – Empower your tutors to set their own schedules and write their own tutoring profiles to attract new clients.
Grow Your Company – Use the built-in analytics feature in TutorCruncher's platform to keep track of lesson hours, revenue, attendance, and more to inform your business strategy.
About TutorCruncher
TutorCruncher provides an efficient, cost-effective platform that can boost a tutoring business's potential by streamlining and automating their time-consuming administrative processes and aids them in offering a top-class service to their clients.
More information
To find out more about TutorCruncher and its split payment feature or how the company can help streamline the administration process of your business, please visit the website at https://tutorcruncher.com/.
Source: https://thenewsfront.com/tutorcruncher-begins-work-with-the-tutors-association-to-raise-awareness-of-complying-with-the-new-legislative-changes/
At TutorCruncher we're all about providing your clients with a first-class service to streamline your company's administration. We believe in providing an efficient, cost-effective platform that can boost our clients potential by cutting administrative time drastically. That's why we built…
The Food Exchange, New Covent Garden Market
London
London SW8 5EL
United Kingdom
020 3966 1863