The Best Waterproof Socks for Cycling, Hiking, Fishing and More In 2021, From the Experts at ArcticDry
prime5erve
Share

We outdoor enthusiasts love to get stuck into the elements. From weekend cycling trips in the mountains to snowboarding in the alps, we're often willing to brave all manners of weather conditions to take part in the sports and hobbies that we love so greatly.
However, there is no doubt that having the right gear is key to a successful adventure. On wet and windy days, activities such as fishing, trekking, and skiing can soak you to the core and leave you cold, sore and with a bad stench.
That's where ArcticDry Waterproof Socks come in. Triple layered and 100% waterproof, their radical socks are specifically designed for lovers of the great outdoors who want a 100% waterproof, comfortable, breathable sock that will be a match for even the harshest of environments.
If you plan on spending more time in the great outdoors in 2021, here are the best waterproof socks that you can buy:
ArcticDry 100% Waterproof Socks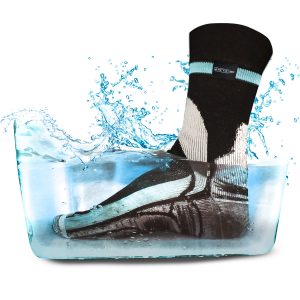 These best sellers are 100% waterproof and utilise advanced technology that is unmatched by other brands. A popular choice when it comes to waterproof hiking socks but extremely effective for all types of outdoor adventures, you can submerge your feet into water and be fully protected.
With an intricate blend of Nylon, Spandex and Coolmax alongside a cutting-edge waterproof membrane, they truly are the ultimate sock for keeping water out.
ArcticDry Ultimate Outdoors Knee Length 100% Waterproof Socks
Offering knee-high protection, these socks are great for a variety of sports including fishing, hiking, mountain biking, snowboarding and much more. Running all the way to the knee with a strong yet comfortable hold, they allow you to wade into deeper waters than would be possible with ankle length products.
Not just waterproof, and just like all ArcticDry socks, they're also warm and comfortable. Whilst no water can penetrate them, they do allow water particles to be released from within, meaning your feet are able to breath and do not feel suffocated.
ArcticDry Xtreme ICE Blue Waterproof Socks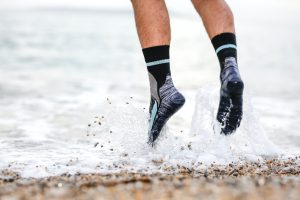 Tested in water, snow, and mud, you will be fully protected by the strong, durable inner waterproofing. Extremely comfortable, the materials used to create these socks combine advanced waterproof technology with a luxurious comfort, thick enough to be comfy and thin enough to allow your feet to breath.
The stylish unisex design is also a hit with customers, providing waterproof socks for men and women that look good, do the job, and keep you dry no matter the terrain or weather.
What about performance and maintenance? Many waterproof products require additional waterproofing, but do ArcticDry socks require such strict preservation?
Many waterproof products require you to apply wax, cream, or spray to maintain the waterproof membrane and keep up the performance. However, with ArcticDry socks, all you need to do is wash them with lukewarm water and a bit of soap, leaving them to dry afterwards. Simple maintenance, long-lasting, with maximum performance. In 2021, there is no other choice when it comes to making sure you have the right waterproof socks for your outdoor adventures.
More information:
ArcticDry was founded in 2016. Their mission was to provide the highest quality outdoor waterproof gear for those who need it, spanning hiking, cycling, golfing, fishing, boating and much more. Since then, they've gone on to produce a range of top-of-the-line waterproof products. To view their range and learn more, visit their website: https://www.arcticdry.co.uk/.
Source: https://thenewsfront.com/the-best-waterproof-socks-for-cycling-hiking-fishing-and-more-in-2021-from-the-experts-at-arcticdry/


ArcticDry was founded in 2016, with one goal in mind, to provide the highest quality outdoor waterproof gear for a range of users; from those in the Hiking World, to Cyclists, Golfers, Fishermen, Boating Enthusiasts & Many More.
50-60 Station Road
Cambridge
Cambridgeshire CB1 2JH
United Kingdom