Lily O'Brien's Salted Caramel Truffles Awarded 2023 Product Of The Year By The Consumer Survey for Product Innovation
prime5erve
Share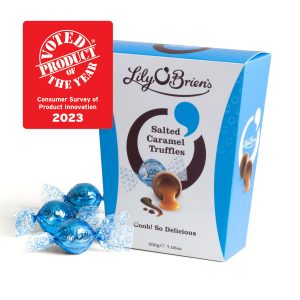 Newbridge, Ireland – Lily O'Brien's Chocolates was started by Mary Ann O'Brien in her Kildare kitchen in 1992 after honing her skills among world-class chefs and chocolatiers in both South Africa and Europe.
Lily O'Brien's is proud to announce that their new and massively popular Salted Caramel Truffles have won Product of the Year 2023 in the Chocolate Category, at the Product of the Year Awards in a survey of 8,000 people in the UK & ROI by Kantar.
A spokesperson for Lily O'Brien's stated, "It's an incredible achievement considering we only launched the truffles range in September of last year (2022) and, due to their popularity, will make sure the award-winning truffles are a permanent addition to our luxury chocolate selection."
Since its humble beginnings, the renowned Irish chocolatier has been committed to creating delicious and innovative chocolate recipes that incorporate foody-inspired flavours and dessert classics into its every collection – as proven by this new and exciting achievement.
There is no better time to try these delicious and luxurious chocolate products for yourself! Lily O'Brien's ranges of decadent chocolates and themed gifts are the perfect way to treat yourself or show others your love and appreciation.
From personalised photo chocolate boxes, delectable chocolate dessert collections, individually wrapped chocolates, and the chocolatier's award-winning truffles, Lily O'Brien's has something for everyone.
Chocolate Truffles
Created with passion using the finest Lily O'Brien's chocolate, the thick milk chocolate shell melts away to reveal a silky smooth and creamy centre that comes in the choice of award-winning salted caramel, creamy vanilla, and classic milk chocolate flavours. 
Presented in a unique gift box, you can share these 17 Irish chocolate truffles with your loved ones or enjoy these melt-on-your-tongue delights all on your own.
Chocolate Desserts Collection 
Lily O'Brien's Chocolate Desserts Collection is filled with an assortment of chocolates inspired by some of the world's favourite dessert recipes, including deliciously decadent Crème Brûlée, Key Lime Pie, Raspberry Infusion, Lemon Posset, Banoffee Pie and Hazelnut Torte. 
These deliciously decadent chocolates come in an iconic Lily O'Briens gift box, making this the ideal gift for all occasions. 
Personalised Keepsake Photo Box
The Personalised Keepsake Photo Box gives you the opportunity to make a scrumptious box of chocolates extra special. 
Inside the box, you will discover 60 chocolates from Lily O'Brien's Elite Collection, including Zesty Orange Chocolate, Key Lime Pie, Himalayan Salted Caramel, Sticky Toffee, Death by Chocolate, Le Crunch Chocolat, Honeycomb, Almond Crunch, Espresso and Marbellini. 
To add your personal touch to this range of delicious chocolates, all you have to do is choose your layout, upload your favourite image (or 3), and Lily O'Brien's will frame your cherished memory on the inside lid.
Chocolate Hamper Box to Spoil 
Each stylish Chocolate Hamper Box contains 8 collections of Lily O'Brien's finest assortments and is the perfect gift to spoil somebody special. 
Some of the mouth-watering chocolates include:
Petit Chocolate Indulgence Collection, 30 chocolates

Ultimate Chocolate Collection, 16 chocolates

Chocolate Desserts Collection, 18 chocolates

Creamy Caramels with Sea Salt Share Bag

Zesty Orange Pouch, 8 chocolates

Sticky Toffee Chocolate Pouch, 8 chocolates

Crispy Heart Pouch, 8 chocolates
More information
To learn more about Lily O'Brien's and the chocolatier's full selection of decadent chocolates and gift ideas, please visit the website at https://lilyobriens.ie/.
Source: https://thenewsfront.com/lily-obriens-salted-caramel-truffles-awarded-2023-product-of-the-year-by-the-consumer-survey-for-product-innovation/
Lily O'Brien's Chocolates started life as the brainchild of Mary Ann O'Brien who, having recovered from a debilitating illness in the early 1990s, discovered her true passion for all things chocolate. Embarking on a journey of discovery, Mary Ann honed…
IDA Business Park, Green Road
Newbridge
County Kildare W12 D424
Ireland
+ 353 45 486800