Share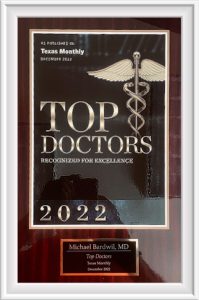 Houston, Texas—In recognition of service excellence in the field of medicine among practicing physicians in Texas, in December 2022, Houston vascular surgeon Dr. Michael Bardwil of Texas Vein & Cosmetic Specialists was named "Top Doctor 2022" by Texas Monthly.
An Expert Vein Specialist
Throughout his career as a vascular surgeon, Dr. Bardwil has approached vein care with a very conservative treatment approach, always recommending the least invasive treatment options to his patients for their individual conditions. Dr. Bardwil has been a pioneer in the use of new, innovative treatment technologies that have transformed the way in which vein problems are treated.
His education, medical training and extensive experience have given him the deep understanding required to qualify as a vein expert. As such, he is quickly able to determine the best path to treat each patient and address their individual concerns. Dr. Bardwil offers these abilities, and more, to the patients that seek out his care. He founded Texas Vein & Cosmetic Specialists – a state-of-the-art, leading vein treatment center in Houston built specifically for treating vein disease.
A Top Vascular Doctor in Houston
Michael F. Bardwil, MD, FACS, RVT, RVPI, is board certified in both general surgery and vascular surgery and leverages more than 30 years of professional experience and is widely recognized as one of the top vein specialists in Houston. Over the past 16 years he has dedicated his efforts exclusively to vein treatment: during this time, he combined his vast surgical expertise with his state-of-the-art, cutting-edge vein treatment center, Texas Vein & Cosmetic Specialists.
Varicose Vein Treatment
Varicose veins are a common medical condition, although they are not typically considered serious or life-threatening. However, some serious types of varicose veins may involve an increased risk of developing blood clots and other conditions. Even those cases that do not pose extreme risk can still entail painful and unsightly symptoms. Given his extensive experience treating varicose veins, Dr. Bardwil is able to identify potential problems and develop treatment plans before serious issues arise.
Spider Vein Treatment
Texas Vein & Cosmetic Specialists is also widely known as a spider vein treatment center: patients are treated for both spider veins and reticular veins. As an expert in treating spider veins, Dr. Bardwil understands the underlying causes of this frustrating and unsightly condition. These blood vessels often appear as blue or red on the surface of the skin, typically on the legs, face, neck, or chest. They are generally hereditary in nature but can also be caused by trauma and hormones such as estrogen, which can actually make them worse.
About Texas Monthly's 'Top Doctor 2022' Award
Texas Monthly's "Top Doctors" Award recognizes service excellence among practicing physicians in Texas. The magazine produces an annual list of top doctors who exceed expectations in their field of medicine in a particular geographical area. Such recognition constitutes a useful guide to identify those professionals who can provide the highest quality healthcare services available.
Each year, the editorial board at Texas Monthly calls for nominations from thousands of board-certified doctors, who recommend physicians they believe are the best in each of their respective medical fields. These nominations are made via a secure website.
Once the nominations are in, a list of the top-voted physicians goes through a rigorous vetting process. All recipients of the Texas Monthly's "Top Doctors" Awards have to hold current certification with their medical licensing board and possess accomplishments that exceed the ordinary, from professional experience to industry achievements including awards and fellowships.
Dr. Bardwil is a highly respected board-certified vascular surgeon and has won many prestigious awards in recognition of his professional experience and expertise, including the "Top Doctors" Award and the "Best Varicose Vein Treatment Center in Houston", awarded by the Houston Chronicle.
He attended the University of Texas Health Science Center at Houston, where he earned his medical degree. He did his internship and residency in General Surgery at the University of Texas Medical Branch in Galveston, Texas. After a tour of duty in the Navy, he completed a Vascular Surgery fellowship at Baylor College of Medicine.
Highlights of his illustrious career include his appointment as assistant clinical professor of surgery (University of Texas Health Science Center at Houston), and the academic appointment as assistant clinical professor of surgery (University of California Medical School in Davis).
More Information
Texas Vein & Cosmetic Specialists' main vein center is conveniently located in the energy corridor of West Houston, near the I-10 and N. Eldridge Parkway. Texas Vein & Cosmetic also offers comprehensive vein and cosmetic treatments in Katy, Texas on scheduled days each month. For more information about treatment options and scheduling, visit https://txvein.com/
Source: https://thenewsfront.com/houston-vascular-surgeon-dr-michael-bardwil-receives-top-doctor-2022-award/
Welcome to Texas Vein & Cosmetic Specialists. Dr. Michael Bardwil, our founder, is a board certified vascular surgeon and Fellow of the American College of Surgeons. He specializes in the treatment of veins and addresses issues related to vascular disease.…
13254 Forkland Drive
Houston
Texas 77077
United States
(713) 461-4945