At Your Leisure Aesthetics: Botox and Lip Filler Treatments Available to Help Rejuvenate Your Skin
prime5erve
Share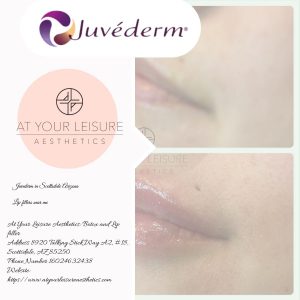 Feeling confident in your own skin is priceless. Your skin deserves to be invested in so that you can stay feeling confident as you age and love who you see in the mirror.
At Your Leisure Aesthetics is a medical spa based in Scottsdale, AZ, that is dedicated to offering clients the very best anti-aging treatments such as Botox, fillers, and chemical peels, as well as premium skincare products. The salon is run by qualified RN Leah Walker and provides convenient, private procedures to clients in need. If you're in need of treatments or Botox in Scottsdale, contact the salon today to find out how Leah and her team can help you!
Expert care for your skin
At Your Leisure Aesthetics: Botox and Lip Filler is run by Leah Walker, a registered nurse who is passionate about boosting the confidence and look of clients through non-invasive cosmetic procedures. Leah is highly trained, having completed extensive training to achieve a Medical Aesthetic Training Injectable and Dermal Fillers certificate, and has over 10 years of experience in offering cosmetic injections to happy clients.
Leah offers the following at her medical spa center:
Botox

Leah offers effective wrinkle-reducing injections of Botox® and Dysport® for her clients. She will help you determine which formula is best for your skin, giving you the best chance to look rejuvenated yet natural
Some people are concerned about pain during Botox procedures, but you really needn't be. The needles are very tiny, and the procedure is quick. Most people do just fine without any anesthetic, but if you're concerned simply ask Leah about using a topical numbing cream or ice to ease discomfort

Dermal fillers/lip fillers

Like Botox, fillers provide a great way to reduce the signs of aging without the need for invasive surgery
Leah Walker, RN, offers Juvederm and Restylane injections to help plump up thinning cheeks and lips and reduce fine lines and wrinkles

Skincare products

At Your Leisure Aesthetics also offers premium PCA skincare products, and Leah will recommend the best combination of these for your skin type
These products help to maintain your skin's health in between professional treatments and boost the effect of treatments like Botox
Benefits of Botox
Botox is a popular anti-aging treatment that is most commonly recommended for lines that develop on the forehead and around the eyes. The procedure takes just a few minutes to complete and results become apparent within a week or two.
Botox is fantastic for smoothing out existing wrinkles on the face, cleavage, and neck, and for preventing new ones from forming. The procedure is perfectly safe when administered by a qualified, highly-skilled professional like At Your Leisure Aesthetics' operating RN Leah Walker. Furthermore, it has been shown that Botox is able to significantly reduce excessive sweating (hyperhidrosis) and help with chronic migraines for many people.
If you're interested in Botox or another skincare treatment, get in touch with Leah and her team today!
More information
At Your Leisure Aesthetics is a medical spa based in Scottsdale, AZ, and is dedicated to offering busy men and women professional anti-aging treatments and expert skincare products.
To find out more about the salon, you can visit the website at https://atyourleisureaesthetics.com/. If you're searching for Botox near me, you can get in touch with Leah's team by calling 602 4632 438.
Source: https://thenewsfront.com/at-your-leisure-aesthetics-botox-and-lip-filler-treatments-available-to-help-rejuvenate-your-skin/
Leah Walker, RN, offers expert aesthetic services at At Your Leisure Aesthetics in Scottsdale, Arizona.
8920 Talking Stick Way A2, #18
Scottsdale
AZ 85250
United States
602 4632 438
https://atyourleisureaesthetics.com/