Share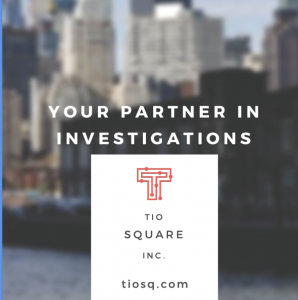 TIO Square Inc., New York's top-rated Investigation firm, announced last week the confirmed selection of the company Director of IT and Investigations, Kieffer Ramirez, as chief executive. Mr. Ramirez is a 22-year veteran in the field of technology and investigations, with a proven track record of success in the use of state of the art technology in the fight against crime and insurance fraud.
Ramirez's long tenure with TIO Square Inc. will make for a smooth transition as the firm positions itself to expand its risk mitigation operations, which include insurance investigations and litigation support, while continuing to capitalize on the latest advancements in technology to provide the fastest and most thorough results in the industry.
"I'm honored to lead this elite team of investigators and IT professionals who work tirelessly every day in partnering with our clients to deliver the best service in the industry", said Mr. Ramirez. "I have been with this company from day one, and our mission has been and will remain the same, to leverage the power of technology in order to deliver the most comprehensive and time-effective work product".
Mr. Ramirez, who currently manages the IT and Investigations department, has been at the forefront of engineering the vast technology infrastructure the company has built over the years, which is comprised of high-tech apps, databases, artificial intelligence (AI) and software-as-a-service (SAAS) solutions that work together in delivering exceptional results, top-quality customer service, and top-tier value to their clients.
More about TIO Square Inc.: TIO Square Inc. is New York's top-rated Private Investigation firm. Based in NYC, and providing investigative services throughout the entire state of New York, TIO Square Inc. has quickly become the most sought-after firm for providing investigative services in the insurance fraud industry to a variety of clients, ranging from insurance companies, third-party administrators and attorneys.
Source: https://thenewsfront.com/tio-square-inc-s-director-of-it-and-investigations-in-new-york-is-promoted-to-c-e-o/
We are TIO Square, a boutique New York Private Investigator and Technology agency covering the New York City, Long island and Westchester.
10814 72nd Ave Ste 2
Forest Hills
NY 11375
United States
866-690-0977