PetFriendly Launches Heartworm Prevention, Transforming to a Comprehensive Pet Wellness Company
prime5erve
Share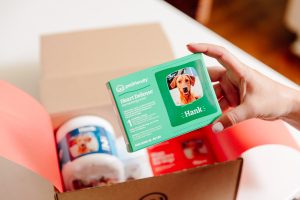 OMAHA, NE | September 14, 2023 – PetFriendly, a subscription pet care company, announced the launch of its first prescription product offering, Heart Defense™ Heartworm Prevention for Dogs. This announcement is a hallmark in PetFriendly's tenure, helping the Company make significant strides in its commitment to healthier pets and happier pet parents.
"Heart Defense™ is more than just a new product for us. It's a milestone for PetFriendly as we expand into the field of prescription wellness products for pets," said the Company's CEO, Aaron Shaddy. "This launch unlocks the pharmacy capabilities that we've had our hearts and minds set on since the Company's founding."
Heart Defense™ is the first subscription-based presentation of heartworm prevention which ships directly to homes across the United States. The perfectly-timed delivery is transforming the way pet parents take care of their pets and stay on top of their pet's heartworm prevention.
"With a multi-month supply, it's easy for a human to forget when their pet's monthly treatment is due," said Shaddy. "We solve this problem for our customers through conveniently timed deliveries reminding them exactly when it is time to protect their pet."
Heart Defense™ is vet-quality, FDA-approved, and made in the USA. Sized according to each dog's unique weight, the beef-flavored chewable tablets prevent heartworms and treat hookworms and roundworms in dogs.
"Heart Defense™ offers safe and effective protection against heartworm disease in dogs without the hassle," said Tracy Isenberg, LVT, veterinarian technician on PetFriendly's in-house vet team. "Our product is made from the same proven ingredients found in the leading heartworm prevention, Heartgard® Plus. But, PetFriendly's single-dose, monthly shipment makes it easier and more affordable for pet parents to protect their pets."
Like its flagship flea and tick product, Heart Defense™ comes in bespoke weight breaks with personalization and multi-pet discounts. The product starts at an affordable $12 per month, but customers will save $1 per treatment for every pet added (up to 5 pets) to their monthly subscription.
Since its inception, the Company's vision has been to simplify pet care. Heart Defense™ joins the ranks of other safe, effective, and affordable products in the Company's line-up — all designed to proactively support the health and happiness of pets.
Read the article on petfriendlybox.com.
Contact: Jocelyn Stange
Contact Email: [email protected] 
About: PetFriendly is a subscription pet wellness company that prides itself on simplifying pet care. Founded in 2018, the Company has helped hundreds of thousands of customers as part of its mission to keep pets healthy and their humans happy.
The Company offers safe, effective, and vet-quality pet care products for dogs and cats, including flea and tick protection, heartworm prevention, multivitamin supplements, and dental care. To learn more about PetFriendly, visit their website at petfriendlybox.com.
Other Resources:
PetFriendly Monthly Subscription
https://petfriendlybox.com
Heart Defense™ Heartworm Prevention for Dogs:
https://petfriendlybox.com/products/heartworm-prevention-for-dogs 
Heart Defense™ Media Kit
https://petfriend.ly/heart-defense-media
Source: https://thenewsfront.com/petfriendly-launches-heartworm-prevention-transforming-to-a-comprehensive-pet-wellness-company/
We're PetFriendly — a pet wellness company based in Omaha, Nebraska. Our mission is to keep pets healthy and make their humans happy.
Omaha
NE
United States