Share
HNCO and Muslim Hands have launched an emergency fundraising appeal after 5.8 magnitude earthquake hits Pakistan-administered Kashmir; close to Mirpur.
On Tuesday 24th September at around 4pm (approximately 11am GMT) a 10km/6-mile earthquake devastated the surrounding areas of Mirpur city, in Kashmir. Buildings collapsed, homes shook to the ground, and most dramatically a huge chasm of a crack opened up on a main road, engulfing cars and buses.
Now, 24 hours after this horrific event HNCO – in collaboration with Muslim Hands – is appealing for donations to help the with the relief, rescue and recovery mission around Mirpur.
The true extent of the damage and the number of those who have been injured or lost their lives has yet to be confirmed. Since the disaster yesterday, however, the death toll has continued to rise, and at time of print, the figure of men, women and children who have died is already suspected to be in the 30s*. Hundreds more are missing and injured.
With the events unfolding faster than the international news stations can report, it is believed that the situation 'on the ground' in Kashmir is far worse than we can ever imagine or understand, here in the UK.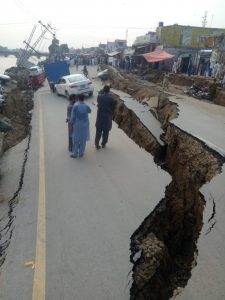 The top priority is to keep survivors safe, provide them shelter, food and clothing; treat the injured, assisting with the burden of medical teams and supplies; help with the recovery effort to find those who are missing and trapped; and overall prevent the further loss of life. Temporary shelters have already been set up but resources are in short supply and risk running out entirely if more help isn't sent to Mirpur immediately.
If this area of Pakistan already sounds familiar, it is because the towns surrounding Mirpur are still reeling and recovering from a 7.6 magnitude earthquake that hit the same region almost exactly 14 years ago, in October 2005. An estimated total of 75,000 people lost their lives due to that disaster in Pakistan, India, and Afghanistan; while homes, schools, businesses and other businesses were completely flattened**.
HNCO (Hajjah Naziha Charitable Organisation) is a North West-based Muslim charity with a global outreach. Established in Pendleside, Lancashire; HNCO has worked all over the world but in Pakistan, in particular, the team have fundraised tirelessly to finance projects such as a '30 villages in 30 days' Ramadan Food Drive, the Qurbani 2019 programme, Hajj 2019 (which saw 50 Pakistanis sent on pilgrimage to Mecca), 100 Water Pumps installed in one month, and – at time of the earthquake – HNCO was supporting a cataract removal programme with Muslim Hands.
HNCO teamed up with global organisation Muslim Hands earlier this year to assist in Qurbani 2019, and has been supporting and financing programmes with the world-renowned and well-respected organisation ever since. With Muslim Hands relief aid workers already situated in Mirpur, HNCO is now urging its own supporters to donate to the disaster fund and get immediate help to those that need it most.
To find out more about HNCO, or to make a donation, please visit hajjahnazihacharity.co.uk, emailing [email protected] or calling 0800 009 8088.
SOURCE: https://thenewsfront.com/muslim-charity-launches-kashmir-earthquake-appeal/
From the very first day, HNCO are engaged for the eradication of poverty and hunger from the deprived communities around the globe.
98-100 Colne Rd
Nelson
Lancashire BB9 5NN
United Kingdom
0800 009 8088
https://hajjahnazihacharity.co.uk