Share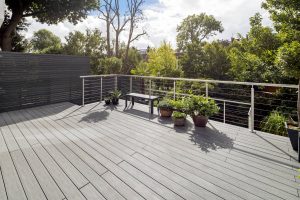 London, United Kingdom – Based in North London and with over 20 years of experience, London Decking delivers high-end decking installation projects across London for private and commercial clients.
London Decking provides its services year-round, but March through to September is the company's busy season for decking installation, and its team has lots of composite decking jobs booked over the last year that they are now beginning to install as the weather has improved.
The company offers a comprehensive range of composite, hardwood and softwood decking options in various colours, styles, and finishes, and ensures that you can rely on its team throughout the entire process, from supply to design and installation.
Expert Decking Installations
London Decking specialises in new garden decking installation that brings your outdoor spaces to life.
By using only, the finest quality composite decking boards and premium timber wood decking, including softwood decking boards in a wide variety of colours, finishes, and styles, London Decking can transform your garden into an area you can enjoy all year round and for years to come.
London Decking will take care of the entire process of every new project its skilled team works on, starting with a site visit to assess your garden space, followed by preparation of the garden decking area and then the actual installation, including the decking frame. Its team will also remove any waste disposal so you can start enjoying your new deck immediately.
The company focuses on providing its customers with a long-lasting and minimal maintenance decking solution, but London Decking can also create wooden garden structures that pair beautifully with your new deck, such as pergolas, gazebos, and wooden garden arches, that are all available in a selection of wood materials.
Types Of Decking
London Decking offers a wide variety of wood materials for you to choose from for your new decking project, with each providing its unique collection of benefits and styles.
Hardwood Decking
Hardwoods, like timber, are widely considered to be one of the most attractive decking options due to their rich, warm timber hues.
Although initially a more expensive option, the material is highly durable, strong, and naturally resilient to insect damage, mould, and rot, making hardwood a good long-term economical choice.
London Decking offers a selection of ecologically sourced hardwoods from FSC-certified suppliers, including IPA, Balau and Iroko decking.
Softwood Decking
Softwoods, such as pine, are less expensive than composites and hardwoods but are less durable.
Due to the material's ease of use, the installation process takes less time to lay, and the fitting costs are lower, in addition to the cost of savings made on materials.
Customers often choose good quality softwood for its bright colour, fresh feel, and the possibility for the material to be stained in the colour of their choice.
Composite Decking
When it comes to installing composite decking, London Decking will only use its team of expert composite decking installers as the process is more complex than usual due to the advanced nature of the product and the increased cost of the raw materials.
Composite decking is made from a blend of recycled hardwood and polymer (plastic composite) and is available in various prefabricated colours.
It is easily laid, highly durable, completely splinter-free (unlike timber decking), weather resistant, and low maintenance needing no further treatment other than cleaning with soapy water.
Although composite decking is a higher-end price range option than natural wood, its design allows it to have a generally longer life span than wood decking.
Please check out our previous press release about London Decking.
More information
To learn more about London Decking and the company's complete list of decking installation services, please visit the website at https://www.londondecking.com/composite-decking-installers-london
Source: https://thenewsfront.com/london-decking-prepares-for-a-busy-season-of-composite-decking-installation/
Based in Muswell Hill, North London, we are a team of established decking installation professionals with over 20 years of experience in designing and building high end decking projects across London for both private and commercial clients.
154 Colney Hatch Lane
London
N10 1ER
United Kingdom
020 8050 4924
https://www.londondecking.com/