Share
Rockskins is a Canadian company specializing in high-quality drum shell wraps and other instrument wraps that are made for musicians, by musicians. Their wraps were simply made to be on stage, with customizable graphics and stylish designs. As a musician, you devote countless hours towards practicing, rehearsing, and playing in front of an audience, so why not invest in yourself or band, even more and give your beloved instrument a bold new custom wrap to make you and your music really stand out?
Rockskins have over 35 years in the design/graphics industry and thousands of happy customers, so it's safe to say they know their stuff when it comes to creating eye-catching wraps. They are proud to provide a wide variety of choices when it comes to creating your own style – after all, their main motto is to strive to be different, creative and comfortable in your own skin. Right now, they are extending their offer of free shipping so that musicians all over the globe can strive to make that motto a reality and truly benefit from the company's bold wrap designs.
Unleash your creativity
Rockskins drum wraps and instrument wraps are highly durable, stylish and customizable. Rockskins offer a wide range of in-house graphics to choose from and they are constantly updating their archives with fresh artwork and ideas, so they are confident that they can cater to just about anyone's design tastes. If you fancy a more unique wrap, that's not a problem – you can simply email your design ideas, band logos (for example, your artwork, logo or photos) to the team and the in-house artists will work closely with you to make your vision a reality.
If you do decide to stretch your creative muscles and opt for a custom design, Rockskins will send you full spec sheets on what they need you to send to them so they can give you the best hi-res artwork for your kit. The best thing about a custom design with Rockskins is that you don't have to choose between quality and quickness; after 35 years in the industry, they are no strangers to tight deadlines and last-minute requests. They use their experienced in- house team to their full potential, enabling you to get the look you want, when you want it.
The very best for your kit
Customers from across the globe have happily transformed their drums and instruments using Rockskins designs without ever compromising the sound. You can get lost in the music, safe in the knowledge that all of their wraps can be installed without the use of adhesive backings, so they will never leave ugly residue behind. What's more, Rockskins have created an easy DIY video tutorial to help you and they send out an installation guide when you purchase a custom Rockskins graphic kit. This means you can effortlessly transform your kit with multiple high-gloss skins without ever damaging it, then get back to doing what you love best without delay, only this time with even more style and attitude!
More information
To learn more about Rockskins and browse their range of high-quality instrument wraps, please head over to their website at https://rockskins.com. You can also keep up to date with the company over on the Rockskins wraps Facebook page or by reading the latest news and articles on the Rockskins blog. For inquiries, please phone the team on 1-866-949-8319 or email [email protected]
Other Resources
https://rockskins.com/collections/drum-wraps
Source: https://thenewsfront.com/instrument-wrap-experts-rockskins-have-extended-their-offer-of-free-shipping/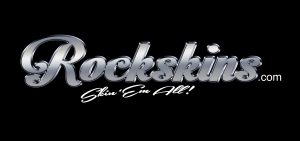 We deliver a wide variety of choices when it comes to creating your own style. Rockskins is unique in its own as our motto is to strive to be different and creative and comfortable in your own skin.
34A - 2755 Lougheed Hwy, Suite #508
Port Coquitlam
BC V3B 5Y9
Canada
866 949 8319