Share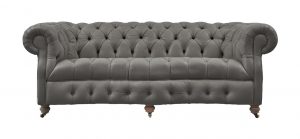 Sofas are more than just a piece of furniture – they have become an integral part of modern life, especially with more of us staying home during the COVID-19 pandemic. The right sofa can be an investment that lasts as a pillar of style and comfort for years and years.
Thomas Lloyd offers a comprehensive range of traditional leather furniture, modern leather furniture and iconic leather Chesterfield sofas. The design team recommend their grey leather sofas as a stylish way to rejuvenate and refresh your interior design ready for summer – particularly their grey leather chesterfield sofas which cleverly blend modern and classic styles to create something truly impressive.
Timeless and versatile
A high-quality leather sofa has the potential to last for up to decade, so it's wise to choose a sofa that is timeless in both colour and design so you can keep up with the latest trends. Thomas Lloyd's collection of grey leather sofas provides the ideal minimalist canvas for a range of design styles, granting you ultimate freedom and allowing you to play around with different tones and textures when decorating the rest of your space.
By investing in a versatile grey leather chesterfield, you are choosing a design that has all the iconic, elegant lines we know and love with a fun modern twist that brings the classic design up to date. By choosing such a neutral focal point for your living room and updating accessories and other design elements as time goes by, you will be able to adapt and evolve your style for years to come without having to pay a fortune to replace your sofa. The design possibilities are endless!
Maximum style and quality
Thomas Lloyd can offer premium-quality sofas at affordable prices because they manufacture all their sofas in-house and offer them directly to customers, cutting out any middlemen. All of their products are carefully handmade in Britain by leather craftsmen who have exquisite attention to detail and years of specialist knowledge and experience, so you know quality is guaranteed.
If your interior style is vibrant, contemporary and daring, and you'd love to add contrast and life into your space, Thomas Lloyd recommends pairing a grey leather Chesterfield sofa with throw cushions in one or two bold accent colours (for example, navy blue and mustard) plus a few neutral shades for balance. Throw cushions are a great way of adding colour and depth to your grey sofa, and they look fantastic whether you use classic solid colours or opt for a more contemporary approach with geometric patterns and woven textures.
To really make your grey Chesterfield stand out as a focal point in your living room, Thomas Lloyd suggests painting the wall behind it a deep blue and accessorising with warm light fixtures and natural wooden coffee tables to balance out the sofa's cool tones. If your style is more minimal, cushions and walls in neutral shades would look just as fabulous with your grey sofa! Have fun experimenting and honing your unique style.
More information
Thomas Lloyd may be famous for their traditional, elegant Chesterfield leather sofa collection, but they also offer a comprehensive range of classic and contemporary leather sofas to make it easy for customers to find something to suit their unique style. To browse their high-quality furniture collections, simply visit https://www.thomaslloyd.com/. For more information, please contact the sales team on 01443 771333.
Source: https://thenewsfront.com/greet-summer-in-style-with-thomas-lloyds-elegant-collection-of-grey-leather-sofas/
With classically elegant lines, Thomas Lloyd leather furniture will immediately take pride of place in your home. That is not surprising when you consider the pride and care we take in manufacturing it. Quite simply we don't believe in cutting…
Abergorki Industrial Estate
Treorchy
CF42 6DL
United Kingdom
01443 771 333