DaVinci Smiles – Dental Implants Announce Launch Of New Website That Focuses On User Experience
prime5erve
Share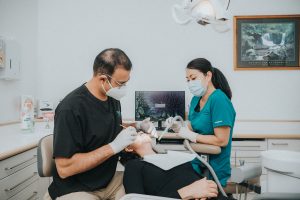 Yokine, West Australia – DaVinci Smiles – Dental Implants is a trusted dental clinic in Joondalup, Perth, that uses its dentists' 20 years of experience to offer a range of high-quality dental implant services, including full mouth dental implants, single implants, all-on-4 dental implants and implant retained dentures.
The dental clinic has announced the launch of its new website that focuses on improving user experience through the inclusion of a more refined home page that shows prospective patients an in-depth list of its current implant services, as well as the addition of an informative blog that shares the latest recovery and dental hygiene advice.
To accompany its website launch, DaVinci Smiles – Dental Implants is also offering a complimentary dental implant consultation to new and existing patients across its 4 locations in Perth, West Australia.
The Long-Term Solution For Missing Teeth
Your natural teeth are an important part of your appearance and overall health.
Missing or deteriorated teeth can be a cause of concern as they may negatively impact your confidence, cause difficulty when eating or speaking, and increase your risk of developing health complications.
While a variety of tooth replacement options are available, such as dental bridges or dentures, these are not long-lasting options and have been known to cause patients discomfort and problems with their speech.
Dental Implants are an innovative treatment for tooth loss and utilize titanium screws surgically implanted into the jawbone to provide a stable foundation for artificial teeth.
DaVinci Smiles – Dental Implants is committed to providing a tailored approach that offers patients quality Tooth Implants in Perth and use the latest technology and techniques for gentle patient care.
Types of Dental Implants
DaVinci Smiles – Dental Implants offers a selection of dental implant services.
Depending on the type, the number of teeth being replaced, and where the patient needs them, it impacts the total Cost of Dental Implants in Perth.
The dental clinic's current dental implants services include:
Single Implants
Single dental implant costs vary depending on factors such as the type of implant chosen, the materials used, and the cost of the restoration work.
However, most single-tooth implants can range from $5,000 to $7,000.
Multiple Implants
Multiple dental implants are often recommended to patients who are missing multiple original teeth or have large gaps between their existing teeth.
This type of implant involves placing several implants at once (based on the patient's health and dental needs) and can range from $10,000 to $30,000 depending on the number of implants required and the complexity of the procedure involved.
All-On-4 Dental Implants
All-on-4 Dental Implants in Perth is an innovative new technique that involves placing 4 strategically placed titanium posts into your jawbone to support a full arch dental prosthesis.
The average price for this minimally invasive treatment starts at $25,000, which includes the x-ray, dental surgery, abutment placement, and crown fabrication.
Full Mouth Dental Implants
Full-mouth dental implants replace most of your natural teeth with artificial ones supported by titanium posts placed into your jawbone.
The average cost for a full-mouth dental implant restoration starts from $35,000, depending on factors such as the patient's bone density and the complexity of their procedure.
Implant Retained Dentures
This alternative to dentures involves attaching removable dentures onto 4 or more strategically placed titanium implants that act as anchors and prevent any potential slipping.
The cost of implant retained dentures starts at $15,000 but can differ based on your specific circumstances or whether you need a bone graft before treatment.
More information
To learn more about DaVinci Smiles – Dental Implants Perth and their list of dental implant services, please visit the website at https://davincismiles.com.au/.
Source: https://thenewsfront.com/davinci-smiles-dental-implants-announce-launch-of-new-website-that-focuses-on-user-experience/
DaVinci Smiles is your trusted dental clinic in Joondalup that offers high-quality dental implant services.
17/162 Wanneroo Rd
Yokine
WA 6060
Australia
08 9509 6050