Share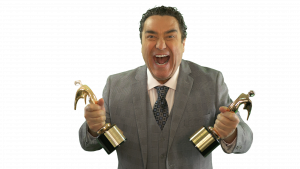 Blackwood, New Jersey – Hindsight Tonight with Damian Muziani has won two prestigious Telly Awards. The 44th annual Telly Awards were announced on May 23, 2023, following intense competition with more than 10,000 entries from around the world. Hindsight Tonight won a Silver Telly for Video Journalism and was also the recipient of the People's Telly Gold award for Best Online Series. These two accolades are in recognition of the exceptional work that Muziani does on this show, an excellent online series that delivers news and current events in a funny and entertaining way. Winning these awards enables Hindsight Tonight to get the credit it deserves for high-quality video production and compelling video journalism.
Damian Muziani has written, produced, and hosted this multi-award-winning online series that continues to deliver impeccable entertainment to its audience. These two awards are a nice addition to the six Telly Awards that Hindsight Tonight has won in the past few years. Hindsight Tonight was launched in 2020 and Muziani has made the weekly news comedy program thrive because of his comedic wit and journalistic skills. He's a well-known news media personality whose career has bloomed since the mid-2000s and he was a host of a daytime talk show Better Philly. He's also an actor who has appeared in over 30 films and TV shows including his latest appearances on The Marvelous Mrs. Maisel and A League of Their Own.
About the Telly Awards
Since 1979, The Telly Awards have honored the best local, regional, and cable television video programming. With over 12,000 entries from all around the world, there is always steep competition for the prestigious awards each year. The Telly Awards Judging Council is comprised of over 200 experts from popular television networks, production companies, and advertising agencies, reflective of the multiscreen industry that The Telly Awards honors and celebrates. Some of its partners include Ghetto Film School, Future of Film, Production Hub, NYWIFT, Video Consortium, SeriesFest, The Commercial Director's Diversity Program, and most recently, Green The Bid.
The Telly Awards are designed to honor the most respected and exceptional work that is created for all screens. Less than 15% of entries are shortlisted or considered to be finalists. This prestigious award is dedicated to honoring the best in the business and this solidifies Hindsight Tonight's prestige and prominence in the video journalism and entertainment industry. The show covers pop culture, politics, trending U.S. headlines, and current events.  Muziani received an Emmy nomination in 2021 for writing the show from the Mid-Atlantic Chapter of the National Academy of Television Arts and Sciences.
The show continues to gain critical acclaim and recognition. This is the second year in a row that Hindsight Tonight was bestowed with the honor of a Gold People's Telly for Best Online Series. The distinction is based on voting from the general public. This is indicative of the public approval that the show has and the positive impact it has had on its audience. Hindsight Tonight has also won awards for Best Individual Comedy Series, Excellence in Copywriting, Best Short-Form Web Video, and several others. Muziani has created a show that attracts a global audience and continues to maintain a high standard of production and biting satire.  His work is exemplary and the show won the People's Telly Award because it received the most public votes in this category.
Damian Muziani, shared his excitement about receiving these awards. Muziani states, "We couldn't be prouder of this achievement.  Winning a Gold Telly is such a rare accomplishment, barely one percent of all entries achieve this status, and now Hindsight Tonight has won it in back-to-back years.  We love our fans, and all of our hard work is validated when they show their love and support."
More information
To find out more about Hindsight Tonight, please visit the website at hindsighttonight.com.
Source: https://thenewsfront.com/damian-muzianis-show-hindsight-tonight-wins-two-prestigious-telly-awards/
P.O. Box 747
Blackwood
New Jersey 08012
United States
856-252-0490