Share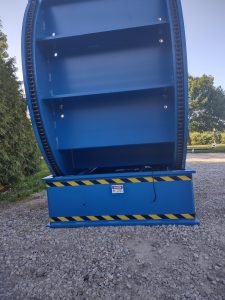 Woodstock, GA – September 05, 2023 – Coilquip, the leader in coil processing equipment, has announced the launch of their groundbreaking new Mechanical Rotating Coil Upender. This innovative machine allows coils weighing 6 to 20 tons to be mechanically rotated and upended for the first time in the industry.
The new Mechanical Rotating Coil Upender features a unique "Pac Man Style" dual chain drive system powered by a motor and gearbox. This allows coils with outer diameters from 60 to 80 inches to be effortlessly rotated 180 degrees on the 60-ton capacity rotating base. The adjustable and removable V-shaped saddle is specially designed to cradle coils of various sizes securely during rotation.
According to Travis Benson, President of Coilquip, "This machine represents a revolution in coil handling. Our innovative upender is the first to mechanically rotate coils through 180 degrees. The dual chain drive gives operators complete control over the coil throughout the smooth rotation process. It will allow our customers to easily reorient coils, bringing huge efficiencies to their coil processing operations."
The new Mechanical Rotating Coil Upender vastly simplifies what has traditionally been a difficult and labor-intensive process. In the past, plants had two options for rotating large coils – either using overhead cranes or physically rolling the coils. Using cranes was potentially dangerous and required extra manpower. Rolling coils was physically demanding, and often resulted in damage to the coil or processing line.
Coilquip's upender eliminates these pain points. The secure V-saddle and smooth, controlled rotation protect both the product and workers. The process requires minimal manpower and can be done quickly and safely at the push of a button.
Benson continues, "We are extremely proud to bring the industry's first mechanical rotation solution to the market. The new upender's unique design was engineered completely in-house by our talented team. It represents what Coilquip does best – innovating and developing new technologies to solve our customers' most pressing challenges."
The new Mechanical Rotating Coil Upender is now available to order and will begin shipping to customers in Q4 2023. As the first and only product of its kind, Coilquip expects strong demand for the upender. The company is eager to work with coil processors looking to optimize their operations with this cutting-edge technology.
With the launch of the innovative Mechanical Rotating Coil Upender, Coilquip once again solidifies its reputation as an industry leader constantly pushing the boundaries of coil handling technology. This new rotating solution will become an indispensable tool for coil processors looking to modernize their operations and maximize productivity.
Source: https://thenewsfront.com/coilquip-launches-revolutionary-new-mechanical-rotating-coil-upender/
Coilquip and Sunbelt Machinery is a second generation family business formed in 1981 which has been a dealer of used and new machinery since.
1025 Rose Creek Drive
Woodstock
Georgia 30189
United States
770-516-0499