Calgary Fintech Launches Pre-sale of Locally Designed and Sourced T-shirts in Support of Chic Geek
prime5erve
Share
Going into their third year of partnership, Helcim and Chic Geek believe in encouraging women to pursue careers in tech.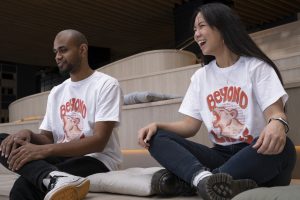 Calgary, Canada  – To celebrate International Women's Day, Helcim launches an online store to sell locally designed and sourced t-shirts. Proceeds from the sales of the apparel will go to Calgary based Chic Geek to support their mission of attracting more women into tech based roles – an industry wide challenge that sees 56% of the women in tech roles leaving the industry midway through their careers .
"The t-shirt depicts a fierce lioness surrounded by binary code to symbolize the strength of diverse tech teams" explains Helcim designer and t-shirt artist Gina Gong. "The tagline beyond limits is meant to empower women pursuing a role in tech and speak to the limitless growth we believe they can experience throughout their careers."
The Helcim team is excited to continue being an active partner of Chic Geek for a third year in a row. Creating a pathway for diverse tech teams and ensuring more women feel supported to join and stay in the tech industry is a very important part of the culture at Helcim. In fact,  Helcim staff who have signed up as mentors with Chic Geek's career pathing program have contributed to 49% of Chic Geek mentees experiencing role changes over the past year.
"The t-shirt initiative is another way we are excited to grow our involvement with Chic Geek," shares Helcim CFO Marjorie Juno-Read. "We are delighted that the artist behind the shirt is a female Helcim team member. Highlighting her talents while raising money and awareness for a great partner and the important cause that is gender diversity and gender equality in the workplace is something  I am excited about."
"Women only hold 25% of computing roles across the industry and of those women 56% leave their technical roles midway through their career. The number one reason we see women leaving their tech roles mid-career is not because of family demands, but because they can not see a path for advancement" shares Chic Geek Founder Kylie Woods.  "Partners like Helcim, help us break through these challenges and our hope with the Helcim t-shirt initiative is that it could create more visibility of mentors and allies that support diverse and inclusive teams."
Beyond Limits t-shirts will be sold using Helcim's free Online Checkout tool and produced by one of Helcim's  Calgary-based merchants Local Laundry, reinforcing the company's commitment to supporting local businesses and the booming Calgary tech economy.
For additional information on Helcim, the initiative, and to purchase your shirt please visit Helcim's shop here.
About Helcim
Helcim is on a mission to be the world's most loved payments company by giving small businesses every possible edge to thrive and enrich our communities. The company delivers an easier, smarter, and more affordable payment experience with a human touch. Helcim serves thousands of businesses in Canada and the US across 800 different industries, processing billions in payments each year.
About Chic Geek
Chic Geek is an organization committed to building gender diversity in technology. Chic Geek curates people, content and companies to build a supportive community where women techbuilders can advance their careers. Its Career Pathing initiative is designed to help women in technology build strategic networks and achieve greater career visibility. Learn more at thechicgeek.ca.
Source: https://thenewsfront.com/calgary-fintech-launches-pre-sale-of-locally-designed-and-sourced-t-shirts-in-support-of-chic-geek/
We're relentless in our pursuit to raise the bar and deliver a service that redefines what a merchant should expect from their payments company.
Suite 400 - 440 2nd Avenue SW
Calgary
AB T2P 5E9
Canada
+1 877-643-5246
More press releases for Helcim