Share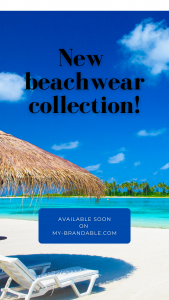 Established in Lugano, Switzerland in 2016, Brandable is a family-operated company specializing in the online retail of high-quality and luxury fashion brands for men, women, and children. They have grown a lot since then, and now offer a wide selection of clothing, shoes, bags, and accessories from a variety of different brands, including Hanro, Hunter, Falke as well as local Swiss brands such as Old Captain Co., Baabuk, and LouBay. These designer brands (see here) are of excellent quality and are sure to last for many years to come after purchase.
Brandable is currently planning the launch of a new line of fashion-forward, high-quality beachwear for both men and women. This exciting new spring-summer collection with be available for purchase in early 2021 on their website, so you'll be able to kick off the year in style and turn heads when swimming, or on holiday throughout the spring and summer months. The authorized online distributors, and brick & mortar stores will be disclosed at a later stage.
Why shop at Brandable?
Where to start? Brandable offers a very unique selection of Swiss, Italian, and German fashion brands, ensuring their customers are never stuck for choice when it comes to selecting their perfect style. They are always innovating, designing, and launching new items to give customers like you even more choice when it comes to being fashionable, as evidenced by their anticipated new 2021 line of spectacular swimwear. After all, they believe that you deserve to be kept up to date with the very latest fashion trends and styles to enhance your lifestyle.
Brandable's impeccable customer service is second to none; they value customer feedback and are always willing to help within twenty-four hours if a rare issue arises or if a customer simply has a question that needs answering. They also provide their customers with a very secure checkout experience and dependable payment options, because they know the importance of keeping your information safe from hackers online, giving you peace of mind when you shop with them. What's more, they value transparency, convenience, and affordability, and therefore offer free shipping worldwide with no hidden fees. Who could possibly say no to that?
Brandable's mission to show off Switzerland's unique style
As a proud Swiss company, Brandable was founded with three main goals in mind. The first objective was to provide Swiss consumers with the opportunity to buy goods imported from abroad quickly and conveniently with minimal fuss. They achieved this by storing goods in warehouses in Ticino, reducing delivery times, and avoiding additional costs. Their second goal was to offer Swiss products internationally with free worldwide shipping, which they have done, making a wide range of Swiss brands available to markets that have previously remained out of reach. The third mission was to further development of the fashion industry in Switzerland by helping Swiss start-ups and designers gain recognition. They work towards this by promoting the company's products on social media, launching the brand on the Brandable store, and writing blog articles praising the company.
More information
For more information on Brandable SA, you can visit their website at https://my-brandable.com/. There, you can order everything you and your family needs in terms of style & fashion such as baby clothes, underwear, shoes for any activity or season, bags, sportswear, and knitwear, as well as gift ideas for other people in your life. You can also keep up to date with news on the launch of their new swimwear line, available early 2021.
If you're interested in seeing a list of Brandable's favorite fashion styles, feel free to check out this blog article on the subject. For all inquiries, or if you need to reach customer support, please email [email protected]
Source: https://thenewsfront.com/brandable-are-proud-to-announce-the-launch-of-their-new-line-of-beachwear-coming-2021/


Brandable is a family-operated company specializing in online retailers of high quality and luxury fashion brands for men, women and children.
Via Besso 44a
Lugano
Ticino 6900
Switzerland